Set Up
To install the plugin from WP-HR Manager simply got to WPHR Settings → Settings → Addons and select the plugin. Follow the purchase process and the plugin will be installed for you.
If you need to manually install, simply upload the ZIP file from wp-admin → Plugins → Add new → Upload plugin.
You may need to synchronize your license – go to WPHR Settings => Settings => Account.  If you are asked for a license number, check the email which was sent to you on completion of your purchase.

If successful, you will see a new tab inside WPHR Settings → Settings → SMS.
From here you will be able to configure this tool.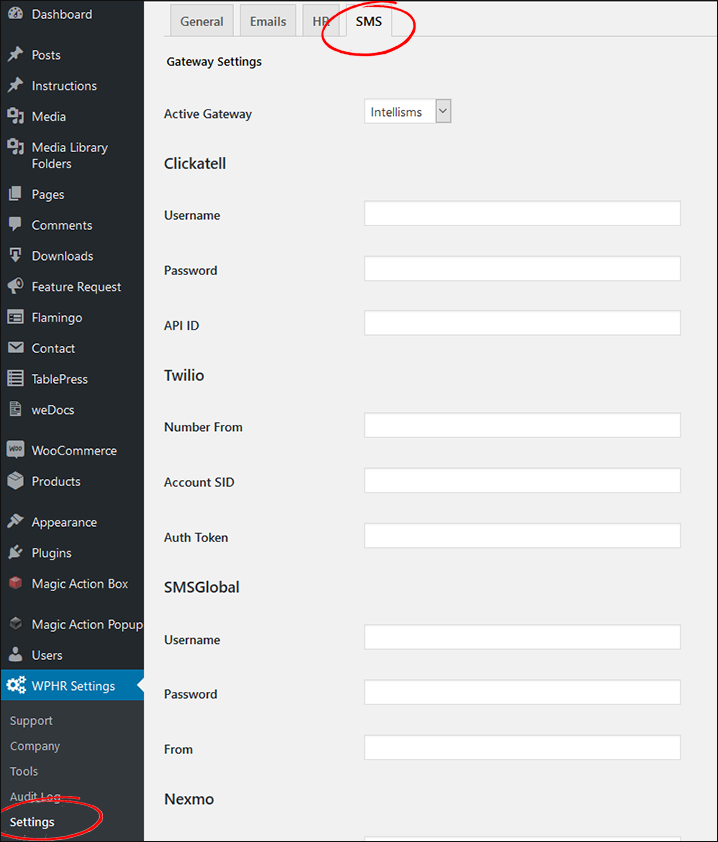 Configuration

Select the SMS gateway you want to use from the drop down menu.

There are multiple fields on this page which will allow you to connect WP-HR SMS Messages with the API and credentials from your chosen service provider.
Simply enter your settings information from the provider in the form and hit save.
SMS Provider Services
You will need to subscribe to a 3rd part SMS temcomms provider to be able to send messages using WP-HR SMS Messages.
You can choose from: