Functionality of Leave Entitlements
Entitlements allow you to assign the policies you have created to any individual employee, multiple employees, a department or the entire company.
Without entitlements your company leave policies will not be activated.
By default, leave period are set to commence on your company start date.
Managing Leave Entitlements
To view the policy and current status of all employees, go to WPHR Leave → Leave Entitlements. Check the right column for employee's total and remaining leave quota.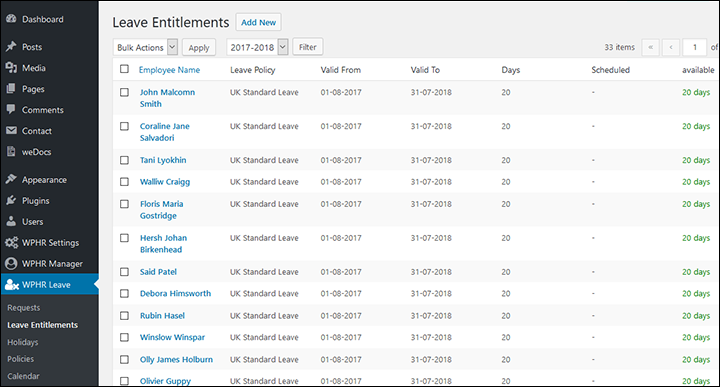 Creating Leave Entitlements
Press Add New to start assigning.
Modify the form fields to meet your needs as shown below. Add a comment if necessary.
Check "Assign to multiple employees" when you want it to work with all the employees of an entire department or a branch office.
Select the office location and department. Add comment if needed.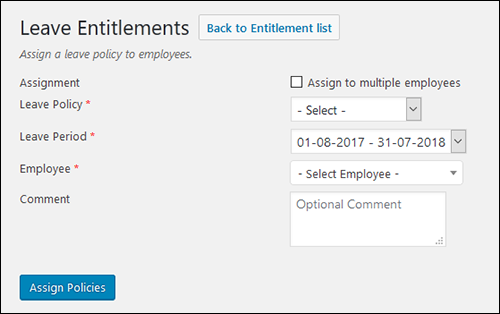 If you want to assign the leave policy to individual employees, uncheck Assign to multiple employees, then select the Leave Policy, Leave Period, and the Name of the Employee from the drop down list. Add comment in needed.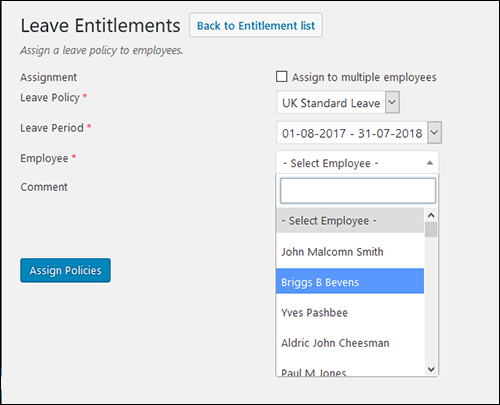 6. Click on Assign Policies when you are done. The Leave Entitlement will now be assigned to the chosen department or individual.